Bikeboard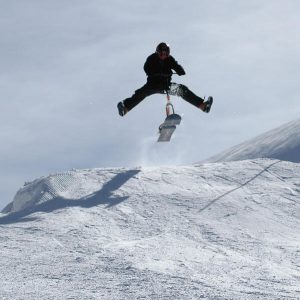 Bikeboard Snow offers the newest advances in the evolution of recreational sports in the snow. The ultimate carving machine Bikeboard Snow adds steering and an elevated balance platform to increase maneuverability on the slopes. Great for endlessly deep powder the Bikeboard Snow floats the ride.
The Bikeboard/Snow Freeride has made a name for itself among winter sports enthusiasts and is considered THE most frequently carve- and piste-tested fun model ever. The success of the model has lead to the development of a snow bikeboard especially for kids. They are specifically designed to fit the little ones' needs and provide the same options as the Freeride model for grown-ups. The new Junior model was created on the basis of the Freeride system. Equipped with a robust sports bike handlebar and a design suitable for kids. Bikeboard/Snow Junior provides small children with the fantastic opportunity to quickly experience the same level of excitement on the snow slopes used by adults as it is so easy to learn how to take curves and to glide with it.
For general information on the Bikeboard/Snow, see Bikeboard/Snow Freeride.
For children ages 6 – 14 years
Frame/fork: Aluminium 6061, Type Junior
Handlebar: Aluminium, sports bike style
Snowboard: CAP, 100% wood core, P-TEX 1000
Platform: Maple wood with fibre-glass layers, board stopper
Weight: 8.1 kg
Equipment
Age: 5-99 yrs
Experience: love of speed and nature is a must
Equipment: you do not need a special equipment, we will give you what you need.
Rental prices
105 Sk, 3.5 € /hour 392 Sk, 13 €/day